ClevelandPeople.Com
Celebrating Cleveland's Cultural Diversity


Traditional Polish dance grand finale by PIAST
Traditional Polish dance grand finale by PIAST
The Piast dynasty was the first historical ruling dynasty of Poland. The folk song and dance group PIAST is named for them. They are part of the Polish Roman Catholic Union of America (PRCUA) the oldest Polish American organization in the United States.

They performed at the Cleveland Museum of Art's International Cleveland Community Day in the Atrium of the museum. This was the grand finale dance.



See more of PIAST at the Art Museum

Top of Page
Lithuania's Foreign Minister Linas Linkevicius' First Visit to Cleveland
Lithuania's Foreign Minister Linas Linkevicius' First Visit to Cleveland
The Republic of Lithuania's foreign minister Linas Linkevicius arrived in Cleveland from Lithuania on Sept. 25, 2015. It was the Minister's first visit to Cleveland, home of a vibrant Lithuanian community.

The Minister was met at Cleveland Hopkins International Airport by City of Cleveland representatives and the Lithuanian Ambassador from Washington to the USA Rolandas Krisciunas, the Honorary General Consul of Lithuania in Cleveland Ingrida Bublys as well as representatives of the Lithuanian Community.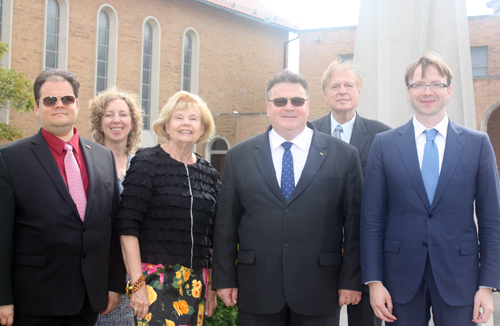 Consul General of the Republic of Lithuania in Chicago Marijus Gudynas, Lyra Puisyte-Bostroem, Honorary Consul Ingrida Bublys, Republic of Lithuania Foreign Minister Linas Linkevicius, Dr. Vik Stankus and Ambassador Rolandas Krišciunas outside St Casimir Church.
Armenian Centennial Flower - the forget-me-not
Armenian Centennial Flower - the forget-me-not
Louise of St. Gregory of Narek Armenian Church spoke about the forget-me-not flower at the 14th annual Armenian Food Festival & Bazaar in Cleveland. The forget- me-not is the Centennial Flower and represents the Armenian Genocide victims. Louise says the million and one half martyrs are now saints so "Now they pray for us instead of us praying for them."

Top of Page
Cleveland Lithuanians at One World Day
Cleveland Lithuanians at One World Day
The Lithuanian Community participated in the 70th annual One World Day in the Cleveland Cultural Gardens both in their garden and in the Parade of Flags.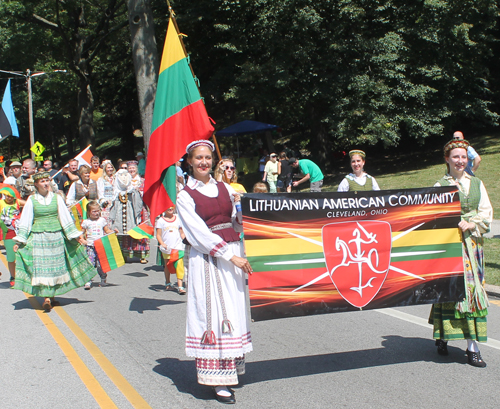 Pope Francis visit influence on Cleveland Catholics
Pope Francis visit influence on Cleveland Catholics
Fr. Joseph A. Bacevice, pastor of St. Casimir Parish in Cleveland Ohio was asked if Pope Francis' visit would have an influence.

He said that it will have a great influence especially with alienated Catholics. He said it already has with several people wanting to get back to the Faith.



Cleveland Catholics

Top of Page
Pope Francis in the US Flash Sale
Pope Francis in the US Flash Sale
On this historic occasion of the visit of Pope Francis to the US we are offering a limited time special. While the Pope is on US soil you can get the We Pray the Rosary DVD at a special flash sale price.

Normally the DVD goes for $15 and $2 shipping. While the Pope is in the US you can get the DVD mailed to you for the flash sale price of only $10 which includes shipping! Save $7! Remember proceeds will be donated to various Catholic charities.

October is the Month of the Rosary so stock up now. They make great Christmas gifts too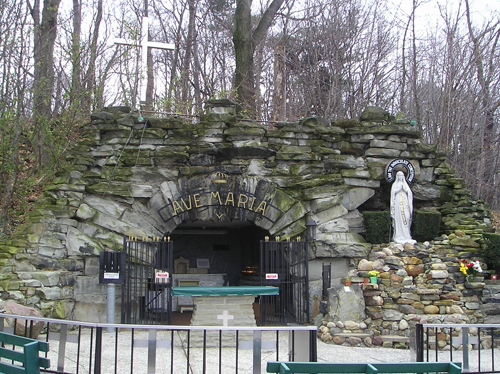 More about the We Pray the Rosary DVD Pope Francis Flash Sale
---
Top of Page
Cleveland Food Adventurers Passport to Korea House
Cleveland Food Adventurers Passport to Korea House
The Cleveland Food Adventurers Passport event in September 2015 was at the Korea House Restaurant at 37th and Superior in Cleveland. The Korea House has been in Cleveland for more than 30 years. Sean, son of the owner, served as our host. People who enjoy trying different foods and learning about different cultures participate in the Food Adventurer's group. The first 50 Passport holders who RSVP'd enjoyed a sumptuous Korean meal and learned about the country, culture, customs and, of course, food of Korea.

At the Korea House they always serve 8 different side dishes (banchan) with a bowl of rice with their meal including Kimchi.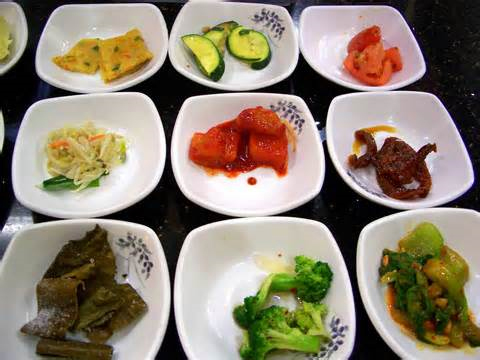 The adventurers also learned about Korean culture, saw Korean fashion and even had a demonstration of Gangnam Style dancing!

Photos, videos and more from the Korean Adventure

Top of Page
Syrian poet bust dedicated in Syrian Cultural Garden
Syrian poet Nizar Qabbani bust dedicated in Syrian Cultural Garden
Several hundred members of Cleveland's Syrian community along with friends and supporters gathered at the Syrian Cultural Garden for a ceremony dedicating the new bust of Syrian poet Nizar Qabbani.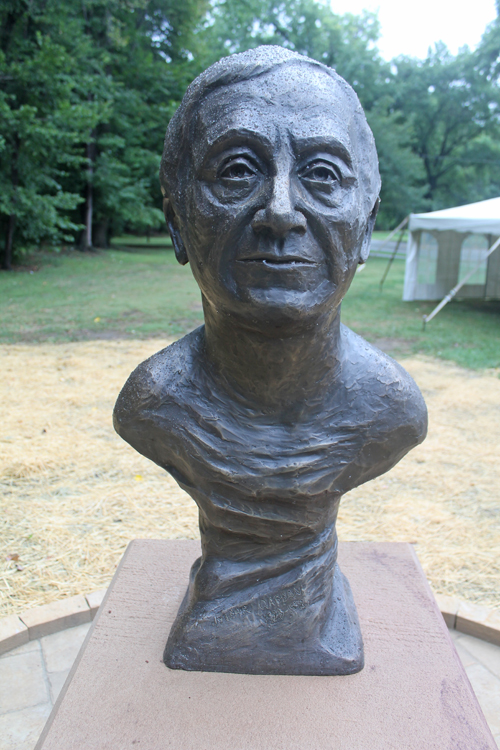 Bust of Nizar Qabbani in Syrian Cultural Garden



Dignitaries spoke and Qabbani's son Omar told of his father's life and works.

Poem recitations were done in both English and Arabic and the program ended with children wearing jasmine crowns singing.

See 4 pages of photos and videos of the Nizar Qabbani bust event in the Syrian Cultural Garden

Top of Page

Cleveland's Refugee Strategy Workshop
Open Doors to a Welcoming City
The Refugee Services Collaborative of Greater Cleveland and Councilman Joe Cimperman hosted a workshop to discuss a citywide strategy to make Cleveland the most welcoming city for refugees to thrive and contribute.

Cimperman cited 3 goals of the Summit: Building relationships among city leaders and those working in relevant refugee services fields, Educating each other about the issues and Creating a blueprint to make Cleveland the number one city in the county for refugees in five years.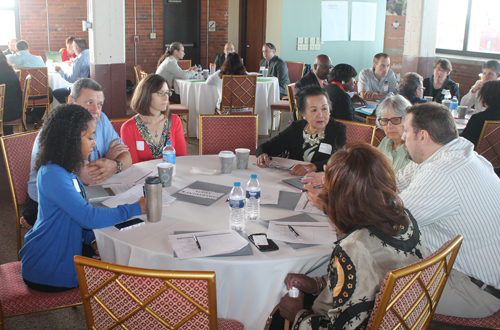 Photos/videos of the Cleveland Refugee Summit
Top of Page
Cleveland International Hall of Fame
Cleveland International Hall of Fame
What a Night! Congratulations to the 2015 Class of the Cleveland International Hall of Fame. You inspired us all.

Lots of photos and video coming soon but here's a Class photo.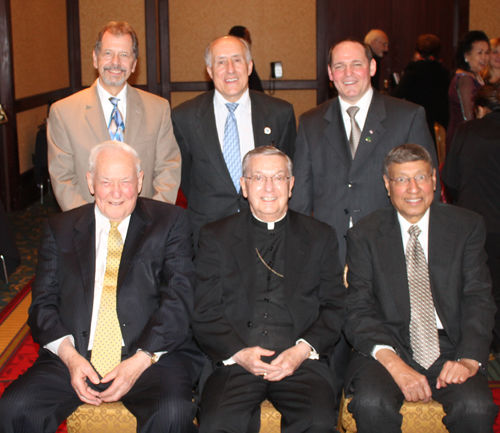 Seated L-R
Dick Pogue, Bishop Pilla and Shiv Aggarwal
.
Standing
Dick Russ, Judge Villanueva and Tommy Mulloy (for his father the late Steve Mulloy)
Missing -
Mayor Richard Ganim
who was ill
Top of Page
Thank You Governor Kasich
This is Our Cleveland - ICC-WIN Multicultural Holiday Party
This is Our Cleveland - ICC-WIN Multicultural Holiday Party
The International Community Council - Worldwide Intercultural Network (ICC-WIN) hosted their annual multicultural holiday celebration at the Global Center for Health Innovation in the Cleveland Convention Center in Cleveland Ohio.

At the end of an international fashion show that featured native costumes from dozens of countries, the models gathered on stage and walked out to the sounds of We are the World. Watch this short video and be inspired.

More photos and videos from the event soon.

Top of Page

We Pray the Rosary - Living Rosary DVD
We Pray the Rosary - Living Rosary DVD
Hail Mary, Full of Grace…
This DVD is a Living Rosary in the sense that over 200 people participated in saying a prayer. 3 bishops, numerous priests and sisters and a variety of lay people all said a prayer (Creed, Our Father, Hail Mary or Glory Be) that when put together combine to form the complete Rosary.
We hope that you will pray along with the diverse group of people on this DVD. They are young and old, different races and ethnicities, in Church and outside, alone and in groups. The prayers are said in English, but occasionally there is a prayer in another language. You may not know the language but will understand, and be able to pray along, because of the context.
American Sign Language
English
Gaelic
German
Hindi
Italian
Konkani
Korean
Lebanese
Polish
Portuguese
Slovenian
Spanish
Swahili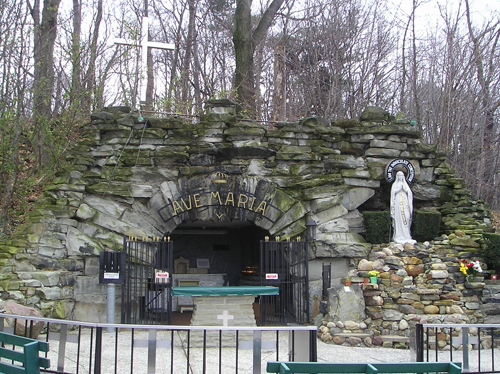 More about the We Pray the Rosary DVD
---
Top of Page
Cleveland Non-Violence Pledge
Cleveland Non-Violence Pledge
"As chairman and on behalf of the Hispanic Roundtable, we enthusiastically take the pledge of peace and nonviolence. We are honored to be associated with two of the greatest human beings whoever lived: Mahatma Gandhi and Dr. Martin Luther King. Most importantly, we want to be associated with the universal and eternal value of peace and dignity for all human beings, who are all created in God's image.
José C Feliciano

Have you signed the Cyber Wall of Peace and Nonviolence yet?
---
Cultural and Ethnic Store
Cultural and Ethnic Store
No matter what your cultural or ethnic background is, you will find products tailored to that group in our On-Line Store.

For example, do you know a Slovenian (or Irish or Polish or Italian or...) Grandma or Grandpa who would love their own Parking Sign? Check it out. Books, DVDs, Music, Flags, Baby Items, Gourmet Foods and much more.

All at great prices and shipped securely from Amazon.com

Please help support ClevelandPeople.Com by shopping in our Online Store.
---
What is Cleveland's greatest asset?
Cleveland People
Sure we love the distinct 4 seasons (most of the time). And we love the great cultural and civic resources such as University Circle, the Cleveland Orchestra, the Cultural Gardens, the Rock and Roll Hall of Fame, Lake Erie, the Browns, Cavaliers and Indians and so much more.
But it's the people that make Cleveland special. The rich culture, traditions and, of course, food from over 100 ethnic groups makes Cleveland a much richer city.
ClevelandPeople.Com Philosophy
Welcome to Cleveland

Helping Monika
Over 1,500 of the daily visitors to ClevelandPeople.Com visit from outside the US. The website has been serving as a Virtual Welcoming Center to people from all over the world. We ask the appropriate Ambassador to assist us with specific cases.
For example, we received an e-mail from a visitor named Monika in Poland. The message was in Polish so we asked Polish Ambassador John Borkowski to translate for us.
Basically, Monika is coming to the Cleveland Clinic and is nervous. She doesn't know anyone or the language.
We sent Monika's information to many on our Polish (and other) lists and the response was terrific. Several organizations and individuals will be assisting and welcoming Monika.
What a terrific group of Cleveland People!

Top of Page
---

ClevelandPeople.Com News & Events
See all of the latest news on the ClevelandPeople.Com News page and a Calendar of Events on the Calendar page.

Top of Page
---
Submit Your Group's Event
If you want your group's events listed in our Calendar, please send an e-mail to events@clevelandpeople.com with the details. Please allow at least 2 weeks lead time.
Top of Page
---
On-line store for browsing and shopping
Do you need a Hungarian Flag? A shirt that says "I love Slovenian girls"? How about a sign that says No Parking except for Irish Grandmother?
These and hundreds of other items for your particular ethnic group are available for browsing at our on-line store. It's safe, fast, easy and fun. And there is a wide selection you will never find in the stores!
---
What is Cleveland's greatest asset?


Cleveland People Sure we love the distinct 4 seasons (most of the time).

And we love the great cultural and civic resources such as University Circle, the Cleveland Orchestra, the Rock and Roll Hall of Fame, Lake Erie, the Browns, Cavaliers and Indians and so much more.

But it's the people that make Cleveland special. The rich culture, traditions and, of course, food from over 100 ethnic groups makes Cleveland a much richer city.

This site serves as a portal to reach the many interesting groups of people that make up Cleveland. While you will want to click on a link of a group that you belong to or are familiar with, why not check out some other groups and see what they have to offer?

If you are from outside the Cleveland area, even outside the US, please contact us to see what our area has to offer you and your family. We think you will be amazed at the opportunities.

Learn more about ClevelandPeople.Com

---
Top of Page

ClevelandPeople.Com is sponsored in part by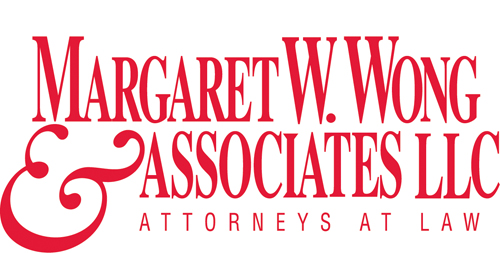 Immigration Services for Corporations and Individuals
Fulfilling Dreams of Living in the United States



Thanks to Vision Net for hosting this site