ClevelandPeople.Com
Celebrating Cleveland's Cultural Diversity


---
Fun with Maps - Malta
Fun with Maps - Malta
Location, location, location. That well-known real estate phrase certainly rings true for this episode's map. In this episode we are looking at the map of a small country that has a great strategic location - about midway between the Strait of Gibraltar and the Suez Canal in the Mediterranean Sea.

You may know it for two popular items - the Maltese Cross and the Maltese Falcon, a 1941 Humphrey Bogart movie. Of course I am talking about the Southern European island country of Malta, an archipelago in the Mediterranean Sea just 50 miles to the south of Sicily, 176 miles east of Tunisia and 207 miles north of Libya. This is an interesting map -some might call it the stuff that dreams are made of - that's a quote from Humphrey Bogart's character Sam Spade in the Maltese Falcon movie. Please subscribe so you never miss an episode of Fun with Maps.



More Fun with Maps episodes

Top of Page
Welcome to our new Irish Ambassador Shannon Corcoran
Welcome to our new Irish Ambassador Shannon Corcoran
Ambassadors to ClevelandPeople.Com are individuals who are outstanding representatives of their culture and heritage. They have demonstrated great dedication to the advancement of their own community and to the greater good of honoring and celebrating other ethnic groups and communities to make our city and region more vibrant.

We are honored to have Shannon M. Corcoran join us as an Ambassador to the Irish community. Shannon will be joining Gerry Quinn on the team. Thanks to Regina Costello for serving as an Ambassador for several years.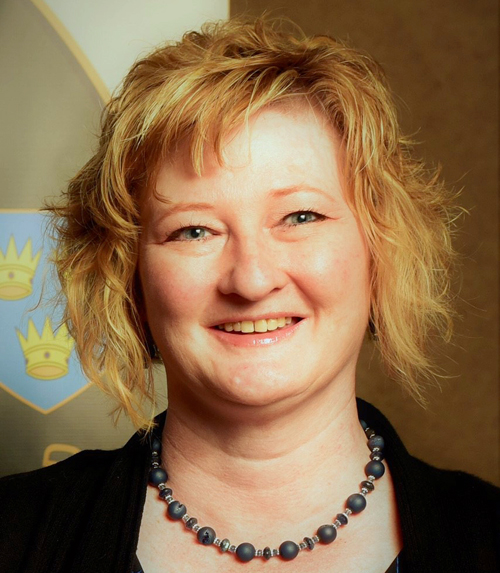 Shannon Corcoran was born and raised in Ohio, and currently lives in the Westpark neighborhood of Cleveland. Shannon was raised in Cleveland's Irish community, starting as a competitive Irish Dancer with the Burke School of Irish Dance. Her family was a member of the West Side Irish American Club, where she attended music and dancing events. While still competing, she joined the Greater Cleveland Feis Society as a stage monitor, and still manages one of the championship stages today.

Shannon served as the Executive Director of the United Irish Societies (UIS) of Greater Cleveland from 2016-2019. The UIS sponsors and organizes the Cleveland St. Patrick's Day Parade, which is one of the city's largest single-day events and one of the city's oldest and most beloved traditions. Prior to becoming the organization's executive director, Shannon coordinated the parade's Line of March for nearly 20 years, including processing parade unit applications and assigning the marching order. In 2010, she was chosen as the Parade's Inside Co-Chair, and that year she started photographing the Parade, and activity she continues to this day.

Shannon is a member of the Ladies Ancient Order of Hibernians Our Lady of the Rosary Division, and is currently the Division's Secretary, a role she previously held along with that of treasurer. Shannon is an active supporter of the Murphy Irish Arts Center; one of Cleveland's Irish dancing school. She is also a member of the Irish American Club East Side.


Top of Page
US-Ethiopia Relations
US-Ethiopia Relations
Aklilu Demassie has written a piece called "The US-Ethiopia Relations now wounded, can it be healed?" about the history and current state of US and Ethiopia relations. It is an important piece and well worth your time in reading it.

It begins: "Cleveland, Ohio, in the US, and Bahir Dar, Gojam, in Ethiopia have been Sister Cities for 18 years now. It is because of this type of people-to-people relationships as well as genuine diplomatic work that brought about mutually respectful and beneficial relationships between the two countries in the past.

Read the rest of the article about US and Ethiopian relations

Top of Page
Indian Community Service
Indian Community Service
Association of Indian Physicians of Northern Ohio (AIPNO) was founded in 1983 as a non-profit organization of physicians of Indian origin in Northern Ohio. With a membership of over 300 physicians who meet regularly for educational, charitable and social events, the organization provides an opportunity to make meaningful contributions to the local community and to make friendships that last. AIPNO also provides service and aid to underserved areas and disaster affected sites. A 'Yatra' is a holy pilgrimage.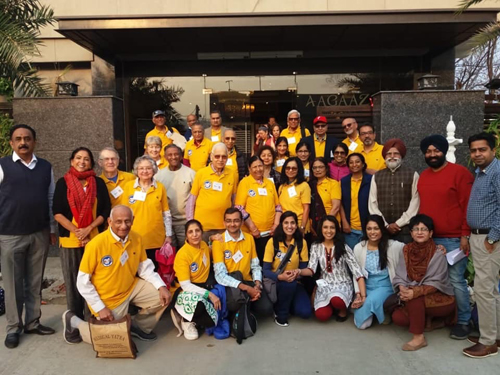 Medical YATRA team-25 physicians+ 22 volunteers conducted 10 days of Medical camps in Ludhiana, Jalandhar, Barnala, Patiala, Amritsar, P.

For years, Dr Jaya Shah and Ramesh Shah have led an AIPNO Medical Yatra to tend to the needs of the poorest in different areas of India. Many of the people that the team of doctors see and treat have never had any contact with a medical professional.

See more from the 2021 Medical Yatra.

Shiksha Daan – Gift of Education is an activity of FICA which was started in 2013. Our objective is to get the local area Indian community members more involved with the education and development of underprivileged youth and adults in the Greater Cleveland area. We achieve our mission by conducting our own tutoring programs and partnering with other non-profit organizations which are working in this area.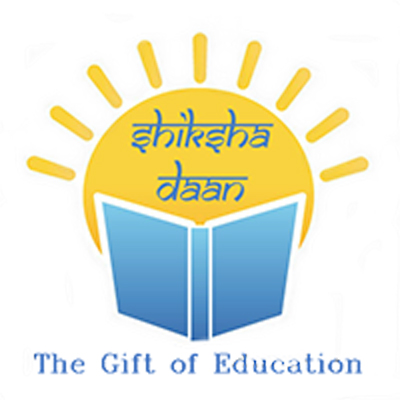 See the 2021 activities of Shiksha Daan
Top of Page
José C. Feliciano receives honorary degree from Tri-C
José C. Feliciano receives honorary degree from Tri-C
Born in Yauco, Puerto Rico, and raised on Cleveland's near west side, Feliciano became the city's first major Hispanic public official when he was appointed chief prosecutor in 1980. Deeply committed to advancing Cleveland's Hispanic community, Feliciano founded the Hispanic Roundtable, the Hispanic Leadership Development Program, the Hispanic Community Forum and the Ohio Hispanic Bar Association.

He was a pioneer in many areas as seen in his bio when he was inducted into the Cleveland International Hall of Fame.

Congratulations José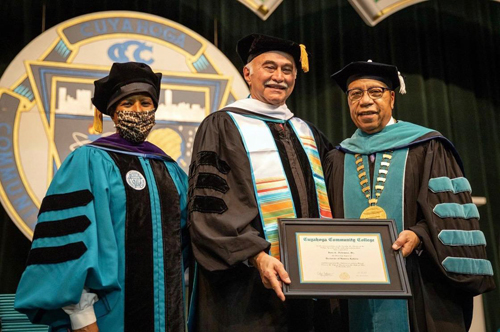 José Feliciano receives honorary degree from Tri-C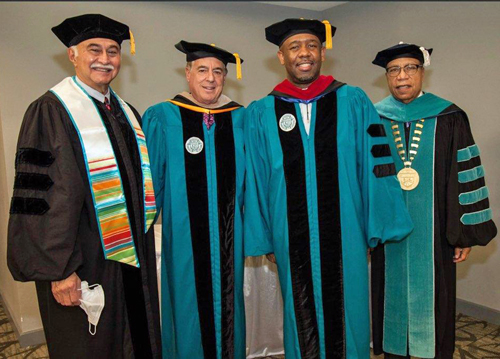 Top of Page
Fun with Maps - Haiti
Fun with Maps - Haiti
Haiti is located on the island of Hispaniola in the Greater Antilles archipelago of the Caribbean Sea, to the east of Cuba and Jamaica and south of The Bahamas and the Turks and Caicos Islands. It occupies the western three-eighths of the island which it shares with the Dominican Republic. Haiti has an estimated population of 11.4 million, making it the most populous country in the Caribbean. The people have suffered a lot. Since 1998, Haiti has been hit by ten hurricanes and other tropical storms, causing widespread loss of life and flooding with every landfall. Other natural disasters, such as the 2010 earthquake, have also resulted in massive amounts of death and property and infrastructure damage, especially in urban areas like Port-au-Prince, the capital.

They have a proud history as the first independent nation of Latin America and the Caribbean, the second republic in the Americas, the first country to abolish slavery, and the only state in history established by a successful slave revolt.



Top of Page
Fun with Maps - The Kamchatka Peninsula
Fun with Maps - The Kamchatka Peninsula
When the Soviet Union fell in 1991 it was the first time in over 50 years that outsiders were able to visit the topic of this episode of Fun with Maps, Kamchatka. Kamchatka is a 900-mile-long peninsula roughly the size of California, yet only 400,000 people were allowed to live there, and all had to have special military clearances. The reason for the secrecy was Kamchatka's location so near Japan and the US that Soviets could listen in on communications during the Cold War.

Kamchatka is an example of a map having enormous geopolitical implications. Russia may have regrets about ceding the Kuril Islands to Japan, not to mention selling Alaska to the US in 1867. Had they not, how those events may have influenced history we will never know.



More Fun with Maps episodes

Top of Page
Revealing Krishna: Journey to Cambodia's Sacred Mountain
Cleveland Museum of Art
Revealing Krishna: Journey to Cambodia's Sacred Mountain
Cleveland Museum of Art
According to Sanskrit texts, Krishna, an avatar of the Hindu god Vishnu, once hoisted a mountain overhead to shelter people and cattle from a mighty storm brought upon them by Indra, the god of rain and lightning, whom Krishna had angered. At the time, the dark-skinned god was just eight years old, and after this feat, his fellow villagers came to recognize him as a divinity. Around the year 600, a sculpture was created for the temple site of Phnom Da in southern Cambodia to honor this feat.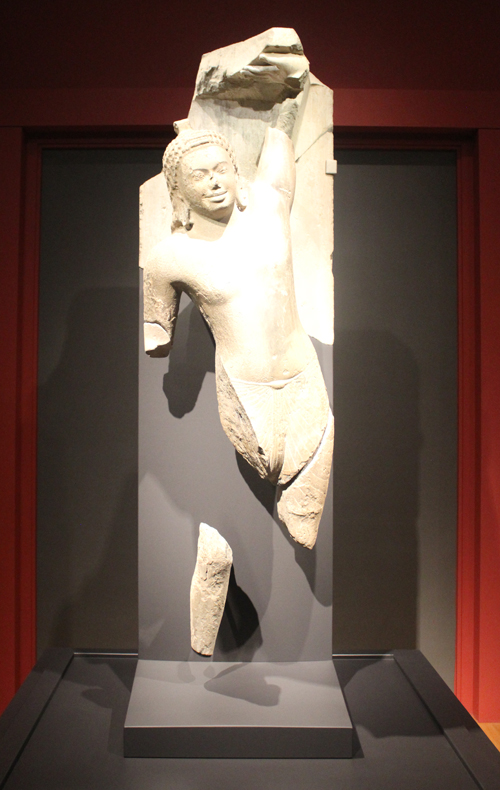 The Cleveland Museum of Art's highly anticipated exhibition, Revealing Krishna: Journey to Cambodia's Sacred Mountain opened November 14, 2021. The groundbreaking exhibition incorporates mixed reality and reveals the CMA's newly restored Cambodian masterwork, Krishna Lifting Mount Govardhan, through an integration of art and experiential digital design.

The exhibition transports visitors to the dramatic floodplains of southern Cambodia and illustrates the history of the sculpture, spanning 1,500 years and three continents.

Visit https://www.clevelandart.org/exhibitions/revealing-krishna-journey-cambodias-sacred-mountain for more information and ticket availability.

Watch Dan Hanson's video preview of the exhibit which includes comments from Sonya Rhie Mace, CMA's George P. Bickford Curator of Indian and Southeast Asian Art who speaks about the participation of actress Angelina Jolie among other items. It also takes a look at the incredible HoloLens 2 virtual reality tour which includes a life-size holographic representation of the original cave temple on Phnom Da.



See more from the Revealing Krishna: Journey to Cambodia's Sacred Mountain Exhibit

Top of Page
A different kind of Fun with Maps
A different kind of Fun with Maps
Each year when the Cleveland Cultural Gardens Federation hosts the annual One World Day in the Cleveland Cultural Gardens, ClevelandPeople.com makes sure everyone has fun with maps.

The ClevelandPeople.com booth had large 5' x 7' maps of Asia, Europe, Africa, South America, North America and the Middle East. Visitors placed a colorful dot on the map where there ancestors (or they) came from. At the end of the day almost 80 different countries were represented and various areas within countries. A real display of Cleveland's diversity. Here is a sample.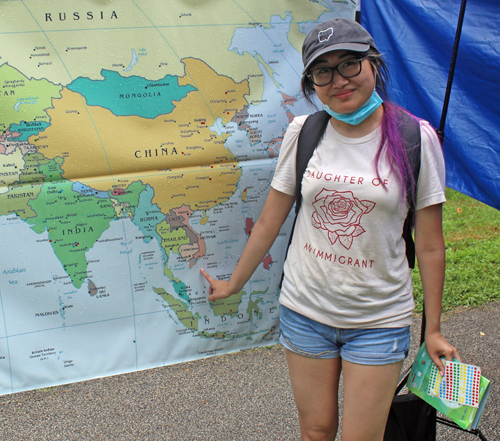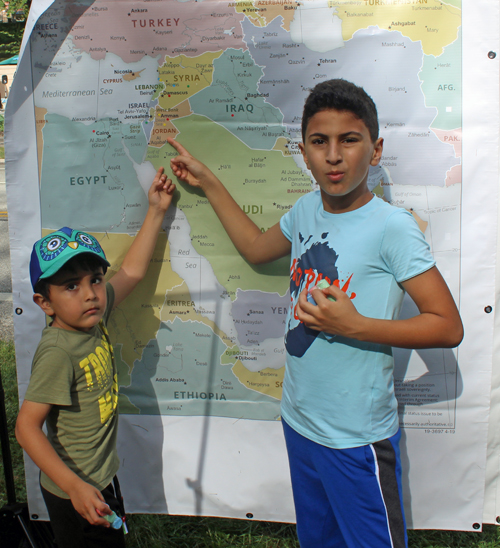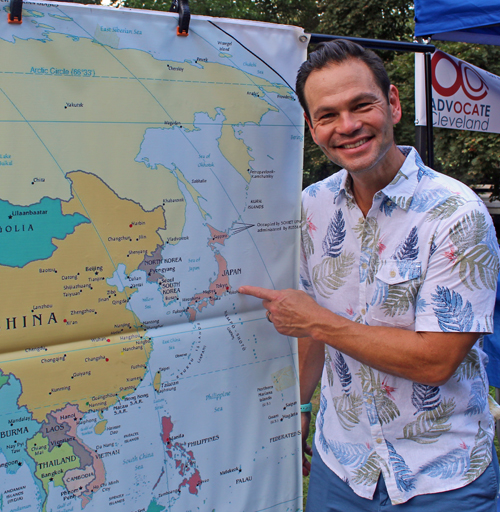 See more people having fun with maps
See Fun with Maps Videos
Top of Page
Fun with Maps - Lesotho
Fun with Maps - Lesotho
There are only 3 enclaved countries in the world. By enclaved we mean an independent country whose territory is completely surrounded by the territory of one other country. In Lesotho's case, it is within South Africa.

Lesotho is a unique and interesting country and the map really defines it. Did you know that the country of Wakanda in the Marvel superhero movie Black Panther was inspired by Lesotho? There's lots more interesting items about Lesotho. Keep having Fun with Maps.



See more Fun with Maps Episodes

Top of Page
Cyber Wall of Non Violence - Gandhi Birthday
Cyber Wall of Non Violence - Gandhi Birthday
Mohandas Karamchand Gandhi was born 152 years ago on October 2, 1869. But his lessons and philosophy live on. Consider some of his more famous quotes




First they ignore you, then they laugh at you, then they fight you, then you win.
Strength does not come from physical capacity. It comes from an indomitable will.
Where there is love there is life.
A man is but the product of his thoughts; what he thinks, he becomes.
In a gentle way, you can shake the world.
The best way to find yourself is to lose yourself in the service of others.
Happiness is when what you think, what you say, and what you do are in harmony.
The weak can never forgive. Forgiveness is the attribute of the strong.
You must be the change you wish to see in the world.
Live as if you were to die tomorrow; learn as if you were to live forever.
An eye for an eye will only make the whole world blind.

Paramjit Singh created a collation to make Cleveland the City of Peace and Nonviolence. We worked together to establish the Cyber Wall of Peace as follows:

By placing my name on this Cyber Wall of Peace and Nonviolence, I pledge to:
Treat others the way I would like to be treated
Stand against hate, injustice and intolerance
Commit to being truthful and loving
Work in my daily life for justice, equality, human rights and righting wrongs using nonviolence methodology…the ideals for which Mahatma Gandhi and Dr. Martin Luther King, Jr. gave their lives.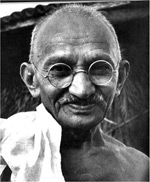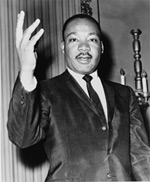 The Dream of making Cleveland a city of Peace & Nonviolence is possible but You must be the change you want to see in Cleveland!
Over 1,000 Clevelanders have signed the Cyber Wall - see the list
If you are so inclined you can learn more and sign the Cyber Wall of Peace

Top of Page
May Chen inducted in Cleveland International Hall of Fame
May Chen inducted in Cleveland International Hall of Fame
May Chen and her family immigrated to the United States from Hong Kong. She started Asian Services in Action (ASIA Inc.) to advocate for immigrants, especially Asian American immigrants, and it has grown to be the largest Asian American and Pacific Islander (AAPI) focused health and social services 501(c)(3) organization in the State of Ohio. ASIA has taken on the most challenging tasks to help the underserved, low-income, and immigrant communities across the state.

Due to the Covid pandemic there could not be the usual Hall of Fame induction ceremony with 500 people attending so May Chen was inducted in the office of her longtime friend Margaret Wong who was an inductee in the inaugural class of the Cleveland International Hall of Fame in 2010.

Michael Byun, her successor as CEO of ASIA Inc., sent his congratulations from Seattle and then May Chen gave her inspiring acceptance speech.



Top of Page
Czech Cultural Garden Virtual Tour
Czech Cultural Garden Virtual Tour
The Cleveland Cultural Gardens are a collection of over 30 gardens each dedicated to a particular heritage. They feature busts, statues and monuments to their cultural icons. The Czech Cultural Garden was dedicated in 1935. Paul Burik has been caretaker of the Czech Garden for over 20 years and he leads a virtual tour explaining the busts and monuments.

Statues and busts include Antonin Dvorak, Karel Havlicek, Bedrich Smetana, Tomas Masaryk, Jindrich Simon Baar, Frantisek Palacky, Jan Amos Komesnky and a tribute to Czech Immigrants.



Top of Page
Berj Shakarian inducted in Cleveland International Hall of Fame
Berj Shakarian inducted in Cleveland International Hall of Fame
Architect Berj Shakarian was inducted into the Cleveland International Hall of Fame. Berj was the driving force behind the Armenian Cultural Garden in Cleveland as well as the Centennial Peace Plaza among other projects. Cleveland Cultural Garden Federation president Dr. Wael Khoury introduced Berj and then previous inductee Paul Burik presented Berj and gave him his CIHF award and pin. Berj is the first Armenian to be inducted.



Top of Page
Fun with Maps - Afghanistan and other "-Stan" Countries
Fun with Maps - Afghanistan and other "-Stan" Countries
We have always planned on doing a Fun with Maps episode on one or more of the "Stan" countries. Just not yet. Unfortunately, the news has made me change the schedule and focus on the map of a very troubled place - Afghanistan.

This episode looks at the group of seven countries known as the "Stan" countries in the heart of Central and South Asia. Then we drill down more into the map of Afghanistan, its capital Kabul and more.



See more Fun with Maps Episodes

Top of Page
Ramesh Shah in Cleveland International Hall of Fame
Ramesh Shah in Cleveland International Hall of Fame
Since 2010, the Cleveland International Hall of Fame (CIHF) has inducted people who have made significant and lasting contributions to our multicultural society. Cleveland is home to people representing about 120 different ethnic groups. The CIHF exists not only to honor those special people but also to inspire a new generation of leaders to follow in their footsteps.

Covid-19 forced the always sold out (500+ people) induction ceremonies to be cancelled in 2020 and 2021 so the Class is being inducted virtually.

Ramesh Shah was inducted by Federation of India Community Associations Board Chairman Sudarshan Sathe and welcomed to the Hall by Inaugural CIHF inductee Paramjit Singh.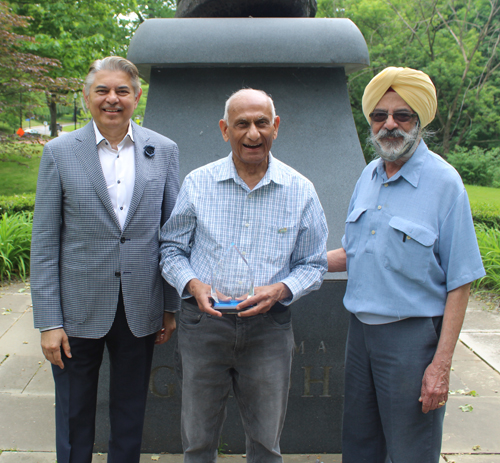 Sudarshan Sathe, Ramesh Shah and Paramjit Singh
See video/photos of the induction of Ramesh Shah
Top of Page
Cleveland Ethnic Radio
Cleveland Ethnic Radio
Radio seems old-fashioned to many but almost everyone has access to it (even via an Internet or cellphone app). Ethnic radio in Cleveland has a long tradition of serving various communities. The radio show often creates or encourages ethnic events.

See a list of Cleveland Ethnic Radio shows

Let us know if we missed any.
Murder in the Cultural Gardens
Murder in the Cultural Gardens
"It just didn't seem right to DJ. A body found bludgeoned in a place known for "Peace through Mutual Understanding." But there she was, crumpled behind a bust of composer Franz Liszt in the Hungarian Cultural Garden. He pulled out his cell phone and dialed 911. "What is the nature of your emergency?" the dispatcher queried. With a suddenly very dry mouth DJ managed to get out, "There's been a murder in the Cultural Gardens."

That's the beginning of the recently published first novel by Dan Hanson.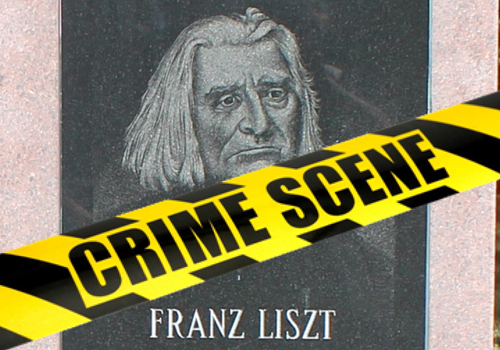 The whodunit, titled Murder in the Cultural Gardens, takes place in the Cleveland Cultural Gardens and all 30+ gardens are featured during the mystery. You may even recognize some of the characters.



Click the link above to learn more or to purchase in paperback or Kindle version from Amazon. Or contact Dan via the Murder in the Cultural Gardens webpage to have a signed book delivered.

Top of Page
2020 Class of the Cleveland International Hall of Fame
2020 Class of the Cleveland International Hall of Fame
With over 100 worthy nominations, the committee and previous inductees of the Cleveland International Hall of Fame had a difficult time selecting the 2020 class. After due diligence, the unanimous results have been finalized.

On April 21, 2020 the 11th class of the Cleveland International Hall of Fame will be inducted. They are:
May Chen
Margaret Lynch
Valarie McCall
Ramesh Shah
Berj Shakarian
Joe Valencic

Stay tuned for details, photos, bios and more. Congratulations!

Buy your tickets now before it sells out.



Cleveland International Hall of Fame


Top of Page
Cleveland's Ethnic Diversity on Display
Cleveland's Ethnic Diversity on Display
Cleveland is a diverse city with about 120 distinct ethnic heritages represented. We at ClevelandPeople.com and the Cleveland International Hall of Fame believe that this ethnic diversity makes us a much richer city and that we should all celebrate this fact.

We asked people from various ethnic groups to create a tile representing their heritage. These 3 quilts are a product of that effort. We hope that other ethnic groups will want to add their own tile to these patchworks showcasing our ethnic diversity.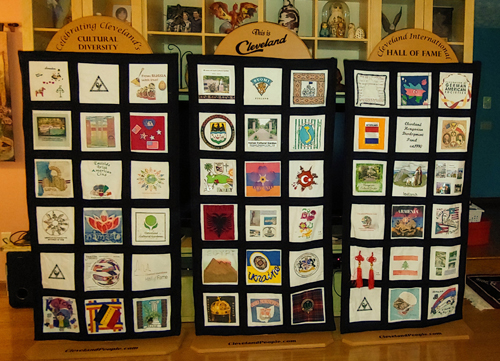 The quilts are available for loan to ethnic museums and organizations and for special events. See more about the ethnic heritage display

Top of Page
Welcome to Cleveland
Welcome to Cleveland


Members of the Stabrova Youth Ballet
welcome you to Cleveland
Top of Page
We Pray the Rosary - Living Rosary DVD
We Pray the Rosary - Living Rosary DVD
Hail Mary, Full of Grace…
This DVD is a Living Rosary in the sense that over 200 people participated in saying a prayer. 3 bishops, numerous priests and sisters and a variety of lay people all said a prayer (Creed, Our Father, Hail Mary or Glory Be) that when put together combine to form the complete Rosary.
We hope that you will pray along with the diverse group of people on this DVD. They are young and old, different races and ethnicities, in Church and outside, alone and in groups. The prayers are said in English, but occasionally there is a prayer in another language. You may not know the language but will understand, and be able to pray along, because of the context.
American Sign Language
English
Gaelic
German
Hindi
Italian
Konkani
Korean
Lebanese
Polish
Portuguese
Slovenian
Spanish
Swahili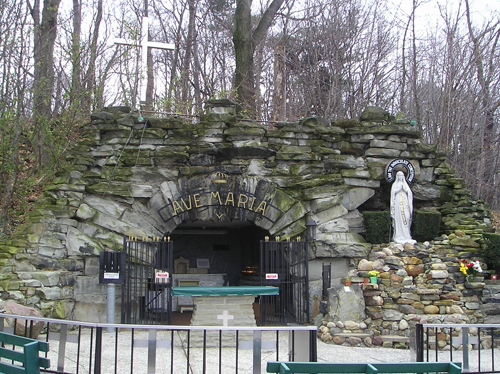 More about the We Pray the Rosary DVD
---
Top of Page
Cleveland Non-Violence Pledge
Cleveland Non-Violence Pledge
"As chairman and on behalf of the Hispanic Roundtable, we enthusiastically take the pledge of peace and nonviolence. We are honored to be associated with two of the greatest human beings whoever lived: Mahatma Gandhi and Dr. Martin Luther King. Most importantly, we want to be associated with the universal and eternal value of peace and dignity for all human beings, who are all created in God's image.
José C Feliciano

Have you signed the Cyber Wall of Peace and Nonviolence yet?
---
Cultural and Ethnic Store
Cultural and Ethnic Store
No matter what your cultural or ethnic background is, you will find products tailored to that group in our On-Line Store.

For example, do you know a Slovenian (or Irish or Polish or Italian or...) Grandma or Grandpa who would love their own Parking Sign? Check it out. Books, DVDs, Music, Flags, Baby Items, Gourmet Foods and much more.

All at great prices and shipped securely from Amazon.com

Please help support ClevelandPeople.Com by shopping in our Online Store.
---
What is Cleveland's greatest asset?
Cleveland People
Sure we love the distinct 4 seasons (most of the time). And we love the great cultural and civic resources such as University Circle, the Cleveland Orchestra, the Cultural Gardens, the Rock and Roll Hall of Fame, Lake Erie, the Browns, Cavaliers and Indians and so much more.
But it's the people that make Cleveland special. The rich culture, traditions and, of course, food from over 100 ethnic groups makes Cleveland a much richer city.
ClevelandPeople.Com Philosophy
Welcome to Cleveland

Helping Monika
Over 1,500 of the daily visitors to ClevelandPeople.Com visit from outside the US. The website has been serving as a Virtual Welcoming Center to people from all over the world. We ask the appropriate Ambassador to assist us with specific cases.
For example, we received an e-mail from a visitor named Monika in Poland. The message was in Polish so we asked Polish Ambassador John Borkowski to translate for us.
Basically, Monika is coming to the Cleveland Clinic and is nervous. She doesn't know anyone or the language.
We sent Monika's information to many on our Polish (and other) lists and the response was terrific. Several organizations and individuals will be assisting and welcoming Monika.
What a terrific group of Cleveland People!

Top of Page
---

ClevelandPeople.Com News & Events
See all of the latest news on the ClevelandPeople.Com News page and a Calendar of Events on the Calendar page.

Top of Page
---

ClevelandPeople.Com Webiste Disclaimer
We participate in the Amazon Services LLC Associates Program, an affiliate advertising program designed to provide a means for sites to earn advertising fees by advertising and linking to Amazon.com. Please note that some of the links on this website are affiliate links, and at no additional cost to you, we will earn a small commission if you decide to make a purchase after clicking through the link. Please do not spend any money on these products unless you feel you need them or that they will help you achieve your goals.

Top of Page
---
Submit Your Group's Event
If you want your group's events listed in our Calendar, please send an e-mail to events@clevelandpeople.com with the details. Please allow at least 2 weeks lead time.
Top of Page
---
On-line store for browsing and shopping
Do you need a Hungarian Flag? A shirt that says "I love Slovenian girls"? How about a sign that says No Parking except for Irish Grandmother?
These and hundreds of other items for your particular ethnic group are available for browsing at our on-line store. It's safe, fast, easy and fun. And there is a wide selection you will never find in the stores!
---
What is Cleveland's greatest asset?


Cleveland People Sure we love the distinct 4 seasons (most of the time).

And we love the great cultural and civic resources such as University Circle, the Cleveland Orchestra, the Rock and Roll Hall of Fame, Lake Erie, the Browns, Cavaliers and Indians and so much more.

But it's the people that make Cleveland special. The rich culture, traditions and, of course, food from over 100 ethnic groups makes Cleveland a much richer city.

This site serves as a portal to reach the many interesting groups of people that make up Cleveland. While you will want to click on a link of a group that you belong to or are familiar with, why not check out some other groups and see what they have to offer?

If you are from outside the Cleveland area, even outside the US, please contact us to see what our area has to offer you and your family. We think you will be amazed at the opportunities.

Learn more about ClevelandPeople.Com

---
Top of Page
Follow ClevelandPeople on
Twitter

or

Cleveland People on Facebook



ClevelandPeople.Com is sponsored in part by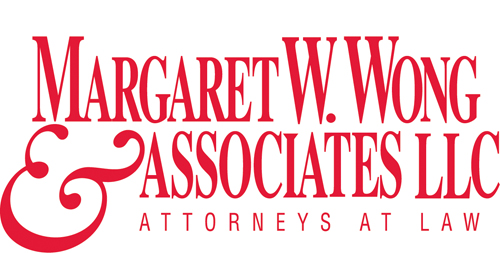 Immigration Services for Corporations and Individuals
Fulfilling Dreams of Living in the United States



Thanks to Vision Net for hosting this site