ClevelandPeople.Com
Celebrating Cleveland's Cultural Diversity


---
Bahá'í Faith Community Tree Planting
Bahá'í Faith Community Tree Planting
The Bahá'i Community of Shaker Heights hosted a tree planting ceremony and a celebration featuring the viewing of the film "The Gate" on Sunday November 11, 2018 at Hildana Park (On the corner of Hildana Rd & Chagrin Blvd.) to celebrate the Anniversary of the Birth of the Twin Founders of the Bahá'í Faith, The Báb & Bahá'u'lláh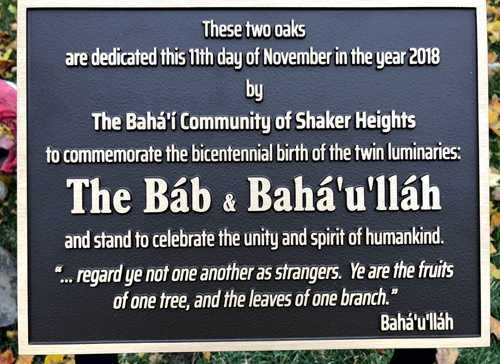 Photos from the Celebration
Top of Page
Lithuanian Honorary General Consul Ingrida Bublys honored at 100th Anniversary Gala
Lithuanian Honorary General Consul Ingrida Bublys honored at 100th Anniversary Gala
On December 1, 2018 members and friends of the Lithuanian community gathered for a gala dinner and evening to commemorate the conclusion of the year long celebration to our beloved Lithuania's 100th anniversary as a free and independent Republic. They also honored Lithuanian Honorary General Consul Ingrida Bublys, who was selected, in Lithuania, as one of the 100 International Lithuanian women recognized on the occasion of Lithuania's centennial. She is a longtime colleague and active member of the Lithuanian community.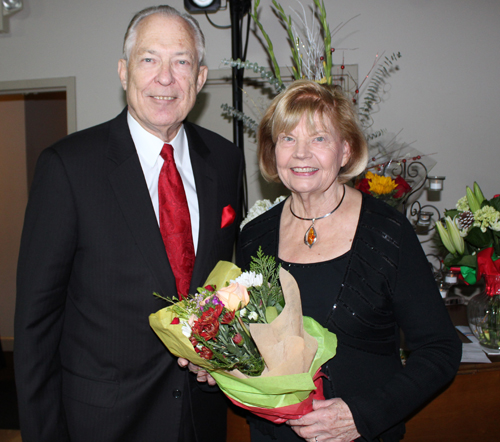 Romas and Ingrida Bublys
Photos and videos from the Lithuania 100th gala
Top of Page
Lebanon Day 2018 in Cleveland
Lebanon Day 2018 in Cleveland
The American Lebanese Community Council presented the 8th annual celebration of Lebanon Day in the City of Cleveland celebrating the 75th independence of Lebanon. The ceremony was in the Rotunda of Cleveland City Hall.

Three outstanding individuals were honored by the ALCC for their contributions: Natalie Ronayne, James Kassouf and the late Dr. Mahmoud Orra.

There was also an update on the Lebanese Cultural Garden.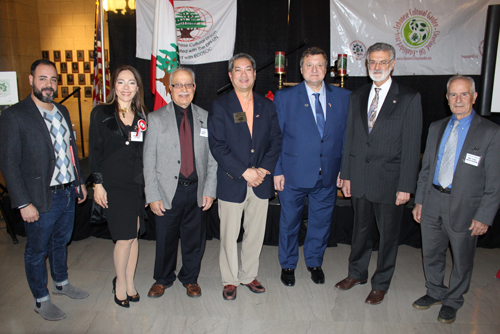 Jad Bedran, Vera Hatem, Faris Alameh, Brunswick Mayor Ron Falconi, Pierre Bejjani, Cleveland Mayor Frank Jackson and Tony Abdulkarim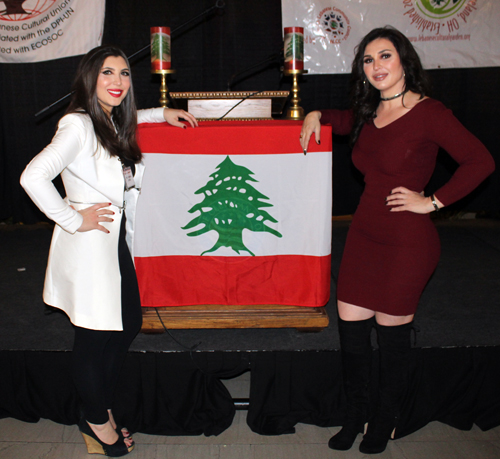 Orra family ladies
See photos and video of Lebanon Day 2018
Top of Page
Ajyal Dabke Lebanese Dance at Lebanon Day
Dedication of the Polish Heritage Garden
Dedication of the Polish Heritage Garden
The Grand Dedication of the highly anticipated, new Polish Heritage Garden at the Polish American Cultural Center at 6501 Lansing Avenue, Cleveland, Ohio in Slavic Village took place on November 11, 2018. This beautiful gated outdoor garden will present Poland's history century by century with permanent comprehensive placards situated along a circular brick walkway. This special garden is designed for future educational and celebratory events for all Cleveland Polonia and their guests to enjoy.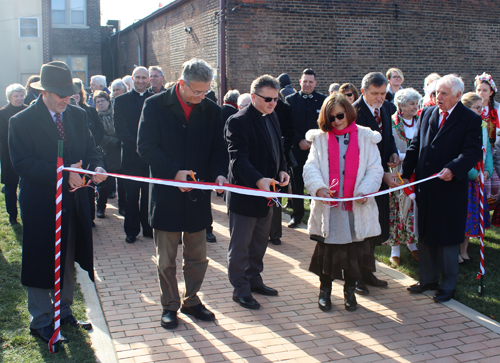 Cutting the ribbon at the new Polish Heritage Garden
See photos and videos of the dedication of the Polish Heritage Garden
Top of Page
1000 years of Polish History
Día de Muertos (Day of the Dead)
Día de Muertos (Day of the Dead)
The annual "Day of the Dead" honors the memory of those who have passed and is a treasured holiday in Mexico and throughout Latin America. Activities included indoor and outdoor altar and art installations, Latin food, live music, performances, and a colorful "Skulls & Skeletons" procession.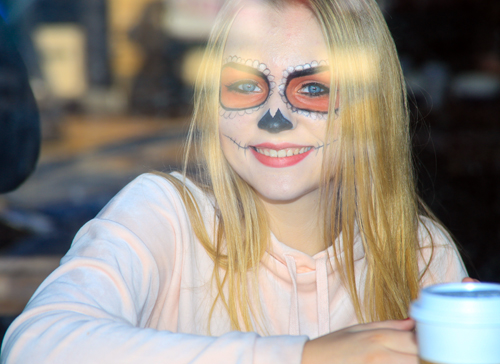 Ready for the Skulls and Skeletons procession



The city of Cleveland celebrated Día de Muertos (Day of the Dead) with a vibrant cultural celebration for the whole family centered around 62nd and Detroit.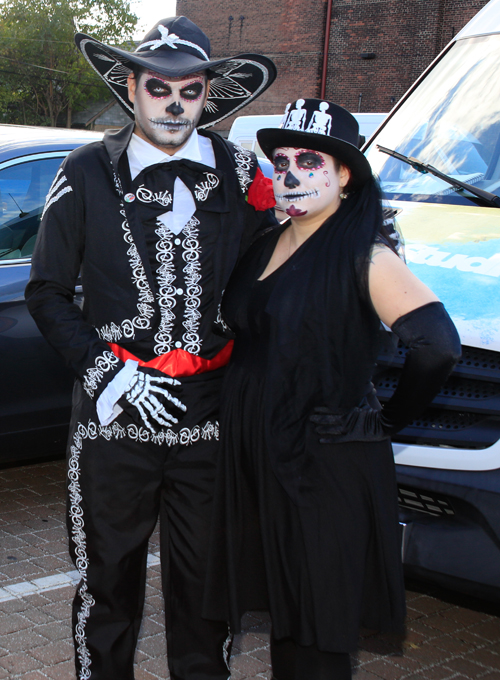 See more from the 2018 Día de Muertos (Day of the Dead)
Top of Page
Czechoslovakia 100th anniversary celebration at Bohemian National Hall
Czechoslovakia 100th anniversary celebration at Bohemian National Hall
2018 is the centennial year of the founding of the country of Czechoslovakia after World War I. This little country, formed out of a piece of the Austro-Hungarian empire became an example of people who had persevered for hundreds of years despite challenges to their very existence. Sokol Greater Cleveland and other organizations hosted a weekend full of events commemorating the centennial of the founding of Czechoslovakia 100 years ago at the Czech Cultural Center in Historic Bohemian National Hall in Cleveland Ohio.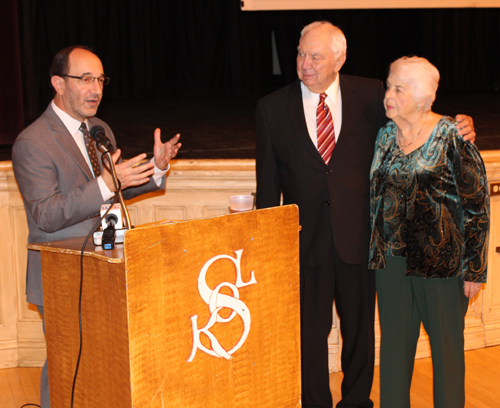 Councilman Tony Brancatelli presents a proclamation
to Steve Sebesta and Helen Roth



Members of the Czech, Slovak and Rusyn communities gathered for music and dance, gymnastic demonstrations, special food and imported beers, tours of the historic building and museum, ethnic exhibits, children's activities and a gala a sit-down dinner on Sunday.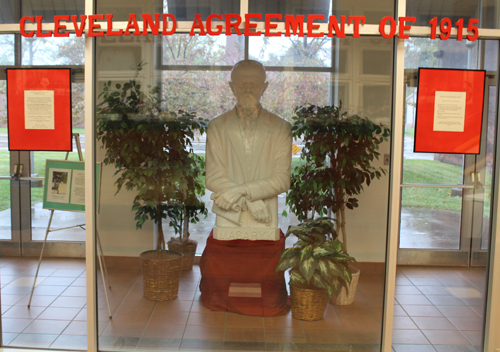 The newly named Cleveland Agreement of 1915 Lobby
See photos and videos of the Czechoslovakia 100th anniversary celebration
Top of Page
Tragedy in Pittsburgh
Tragedy in Pittsburgh
A Statement on the Tragic Shooting at Tree of Life Synagogue in Pittsburgh from the Maltz Museum of Jewish Heritage

(CLEVELAND, OH) OCTOBER 28, 2018 - The Maltz Museum of Jewish Heritage is deeply saddened by yesterday's tragic shooting in Pittsburgh. As the ADL reported, the murder of 11 people at Tree of Life Synagogue is believed to be the deadliest attack on Jews in American history. This horrific act is a reminder of why our museum exists, to build bridges and create cultural compassion. Our doors are open and we encourage everyone to join us here and work to stop the hate. We must never stop working to build the kind of inclusive society in which all people of all faiths and backgrounds are valued and respected. Our thoughts and prayers are with the community of Pittsburgh and the families of the victims. May their memories be for a blessing.

We at ClevelandPeople.com share the sorriow and horror and stand with the Jewish community in this terrible time

Top of Page
International Cleveland Community Day
International Cleveland Community Day
International Cleveland Community Day at the Cleveland Museum of Art is a celebration of the rich diversity of our region's multiethnic communities, featuring traditional music and dance performances, cultural displays, and ingallery experiences. During this vibrant afternoon, visitors enjoyed presentations from more than 50 community groups expressing the continued vitality of the global cultures and arts that enliven our city.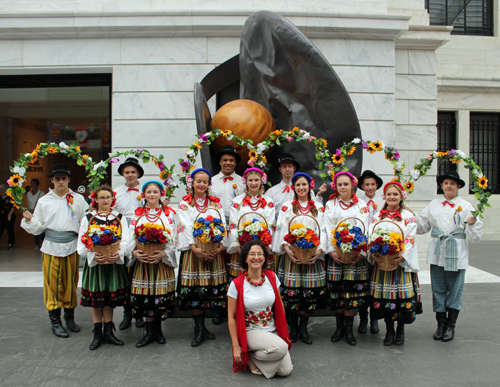 PIAST group on International Cleveland Community Day
Photos and videos of International Cleveland Community Day 2018

Top of Page
Leif Erikson Day 2018
Leif Erikson Day 2018
The Scandinavian community of Cleveland, including those from Norway, Sweden, Denmark and Iceland gathered at the bust of Leif Erikson in front of Shooters in Cleveland's Flats to celebrate Leif Erikson Day.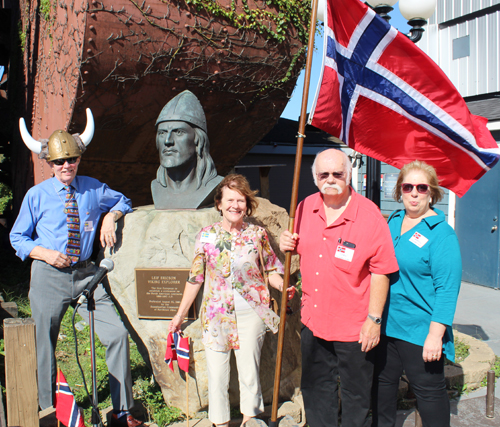 Leif Erikson was a Norse explorer regarded as the first European to land in North America (excluding Greenland), nearly 500 years before Christopher Columbus.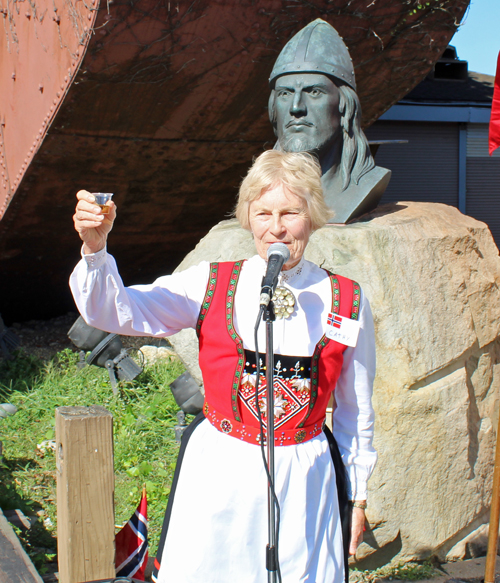 Catherine Jorgensen McCutcheon
See photos and a video of the 2018 Leif Erikson Day in Cleveland
Top of Page
What a Night!
9th annual Cleveland International Hall of Fame inductions
The photos and videos from the 9th annual Cleveland International Hall of Fame induction are now posted at ClevelandInternationalHallofFame.com/. Well over 500 people attended the inspiring and fun evening.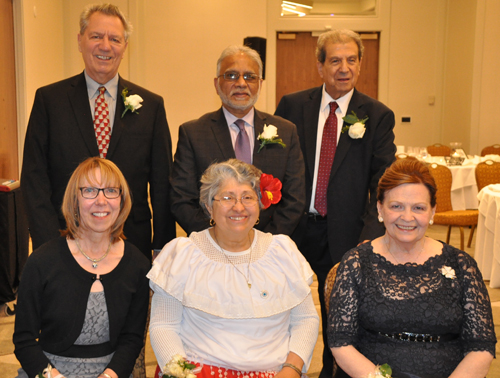 Ralph Perk Jr., Dr Atul Mehta, Abby Mina,
Karen Pianka, Sister Alicia Alvarado and Sheila Murphy Crawford



You can nominate someone now for the 10th class which will be inducted Tuesday April 16, 2019.
Welcome to Cleveland
Welcome to Cleveland


Members of the Stabrova Youth Ballet
welcome you to Cleveland
Top of Page
Thank You Governor Kasich
We Pray the Rosary - Living Rosary DVD
We Pray the Rosary - Living Rosary DVD
Hail Mary, Full of Grace…
This DVD is a Living Rosary in the sense that over 200 people participated in saying a prayer. 3 bishops, numerous priests and sisters and a variety of lay people all said a prayer (Creed, Our Father, Hail Mary or Glory Be) that when put together combine to form the complete Rosary.
We hope that you will pray along with the diverse group of people on this DVD. They are young and old, different races and ethnicities, in Church and outside, alone and in groups. The prayers are said in English, but occasionally there is a prayer in another language. You may not know the language but will understand, and be able to pray along, because of the context.
American Sign Language
English
Gaelic
German
Hindi
Italian
Konkani
Korean
Lebanese
Polish
Portuguese
Slovenian
Spanish
Swahili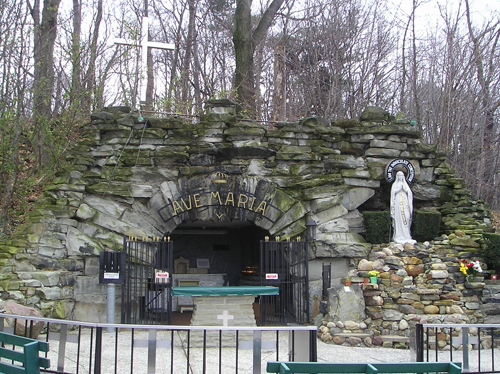 More about the We Pray the Rosary DVD
---
Top of Page
Cleveland Non-Violence Pledge
Cleveland Non-Violence Pledge
"As chairman and on behalf of the Hispanic Roundtable, we enthusiastically take the pledge of peace and nonviolence. We are honored to be associated with two of the greatest human beings whoever lived: Mahatma Gandhi and Dr. Martin Luther King. Most importantly, we want to be associated with the universal and eternal value of peace and dignity for all human beings, who are all created in God's image.
José C Feliciano

Have you signed the Cyber Wall of Peace and Nonviolence yet?
---
Cultural and Ethnic Store
Cultural and Ethnic Store
No matter what your cultural or ethnic background is, you will find products tailored to that group in our On-Line Store.

For example, do you know a Slovenian (or Irish or Polish or Italian or...) Grandma or Grandpa who would love their own Parking Sign? Check it out. Books, DVDs, Music, Flags, Baby Items, Gourmet Foods and much more.

All at great prices and shipped securely from Amazon.com

Please help support ClevelandPeople.Com by shopping in our Online Store.
---
What is Cleveland's greatest asset?
Cleveland People
Sure we love the distinct 4 seasons (most of the time). And we love the great cultural and civic resources such as University Circle, the Cleveland Orchestra, the Cultural Gardens, the Rock and Roll Hall of Fame, Lake Erie, the Browns, Cavaliers and Indians and so much more.
But it's the people that make Cleveland special. The rich culture, traditions and, of course, food from over 100 ethnic groups makes Cleveland a much richer city.
ClevelandPeople.Com Philosophy
Welcome to Cleveland

Helping Monika
Over 1,500 of the daily visitors to ClevelandPeople.Com visit from outside the US. The website has been serving as a Virtual Welcoming Center to people from all over the world. We ask the appropriate Ambassador to assist us with specific cases.
For example, we received an e-mail from a visitor named Monika in Poland. The message was in Polish so we asked Polish Ambassador John Borkowski to translate for us.
Basically, Monika is coming to the Cleveland Clinic and is nervous. She doesn't know anyone or the language.
We sent Monika's information to many on our Polish (and other) lists and the response was terrific. Several organizations and individuals will be assisting and welcoming Monika.
What a terrific group of Cleveland People!

Top of Page
---

ClevelandPeople.Com News & Events
See all of the latest news on the ClevelandPeople.Com News page and a Calendar of Events on the Calendar page.

Top of Page
---
Submit Your Group's Event
If you want your group's events listed in our Calendar, please send an e-mail to events@clevelandpeople.com with the details. Please allow at least 2 weeks lead time.
Top of Page
---
On-line store for browsing and shopping
Do you need a Hungarian Flag? A shirt that says "I love Slovenian girls"? How about a sign that says No Parking except for Irish Grandmother?
These and hundreds of other items for your particular ethnic group are available for browsing at our on-line store. It's safe, fast, easy and fun. And there is a wide selection you will never find in the stores!
---
What is Cleveland's greatest asset?


Cleveland People Sure we love the distinct 4 seasons (most of the time).

And we love the great cultural and civic resources such as University Circle, the Cleveland Orchestra, the Rock and Roll Hall of Fame, Lake Erie, the Browns, Cavaliers and Indians and so much more.

But it's the people that make Cleveland special. The rich culture, traditions and, of course, food from over 100 ethnic groups makes Cleveland a much richer city.

This site serves as a portal to reach the many interesting groups of people that make up Cleveland. While you will want to click on a link of a group that you belong to or are familiar with, why not check out some other groups and see what they have to offer?

If you are from outside the Cleveland area, even outside the US, please contact us to see what our area has to offer you and your family. We think you will be amazed at the opportunities.

Learn more about ClevelandPeople.Com

---
Top of Page
Follow ClevelandPeople on
Twitter

or

Cleveland People on Facebook



ClevelandPeople.Com is sponsored in part by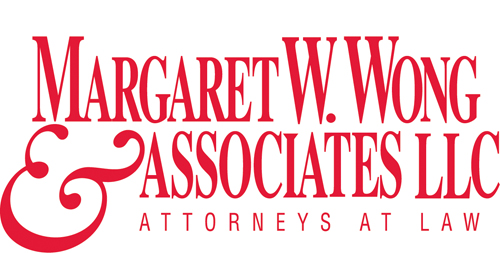 Immigration Services for Corporations and Individuals
Fulfilling Dreams of Living in the United States



Thanks to Vision Net for hosting this site